Notice of end of applications
Applications for LUUP e-scooter user eligibility under the current new business special exemption system will end on June 19, 2023. (*New user eligibility will be required from 07/01.)
Those who already have user eligibility can continue to use e-scooters.
In addition, electric-assisted bicycles can be used with only credit card registration, regardless of e-scooter user eligibility.
New traffic rules starting from 07/01
A revised Road Traffic Act will be enforced from July 1, 2023, and new traffic rules will begin.
New user eligibility for e-scooter use has also started to be accepted from 07/01.
We recommend that those who do not yet have user eligibility complete the procedure in advance from the menu screen in the app, etc.
Those who have LUUP e-scooter user eligibility under the new business special exemption system will also need to complete the procedure for the new user eligibility, so please be aware of this.
New user eligibility is required for e-scooter use from 07/01.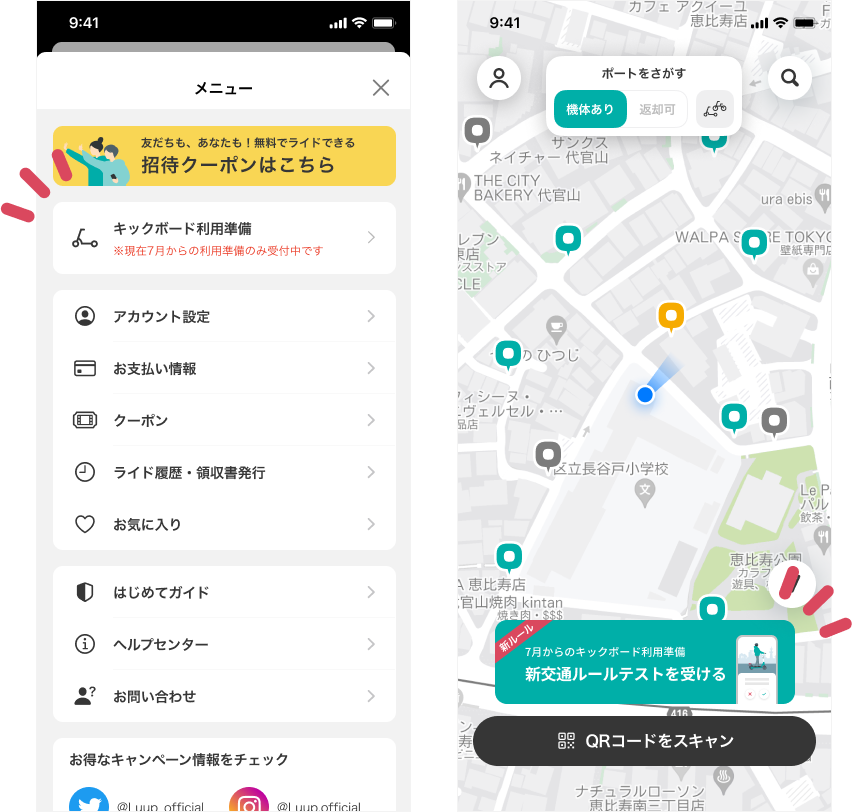 Procedure for obtaining new user eligibility from 07/01
Please cooperate with the following two points for the new user eligibility procedure.


1. Submission of age verification documents (confirmation that you are 16 years old or older)
You will upload one of the following documents on the app:
Individual Number Card
Driver's license (moped license also acceptable)
Passport (foreign passports also acceptable)
Residence Card
2. Passing the traffic rules test for the new traffic rules
New traffic rules will begin from July 1.
We have prepared a test that covers important points. If you answer all questions correctly, you will pass.
※ The contents include not only e-scooter traffic rules but also the content related to electric-assisted bicycles, so we recommend taking the test even for those who cannot use e-scooters.