1. Tap "Finish Riding" at destination port
When you arrive at your destination port, tap "Finish Riding" on the app.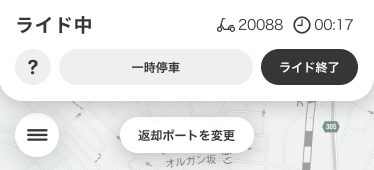 ※You cannot end your ride anywhere other than your designated port.
※Noise near residential area ports can be a nuisance to local residents. Please be considerate of the surrounding environment when returning the e-scooter to the parking zone, and be careful not to cause any inconvenience.

※If you need to return the e-scooter to a different location than your designated destination, please go to "Change return port" in the app and modify your destination.
---
2. Take a picture of the vehicle in the parking zone
Take a picture that shows that the e-scooter and parking zone are correctly aligned and the e-scooter has been returned to the zone.
※It may take up to 1 minute until the payment is complete.
---
3. Finish Riding
The payment will be completed and the usage fee will be displayed.
We look forward to your next ride!
※If you are unable to end the ride, please contact us through the inquiry form.
※If you need to make a temporary stop instead of ending the ride
If you need to make a temporary stop during your ride, please close the lock on the app and leave the vehicle there.
To unlock the e-scooter later, tap the unlock button on the app.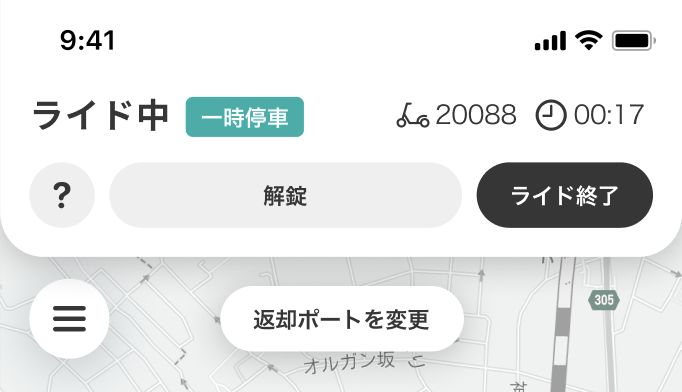 Please note that usage fees will be charged even while you are temporarily parked.
※Penalties for parking violation
LUUP's e-scooters are categorized as small special vehicles.
If the driver is not present at a location other than where parking is allowed(*), it will be considered as an illegal parking violation. Please do not park illegally.
*temporary parking areas such as bicycle parking lots, parking spaces for convenience stores when shopping, etc.
The penalty for a parking violation is as follows:
                     Violation Points  Fine
Illegally parked in a no-parking zone          1pt  6,000 yen
Illegally parked in a no-stopping zone         2pt  7,000 yen
Unattended vehicle parked over time limit       1pt  6,000 yen
Illegally parked in a no-parking and no-stopping zone 3pt  10,000 yen