What is "Ride to Receive Coupons"?
On the app's map, you may see pins with yellow badges like the ones below. When you complete a ride indicated by these pins, you'll receive valuable coupons that you can use on your next ride.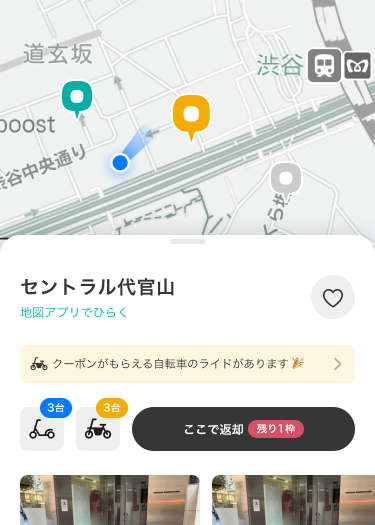 How to receive coupons?
There's no need for any special action. After the ride is complete, you'll receive a notification on the app about the coupon. Please wait for it to arrive and enjoy the discount on your next ride.
Conditions for receiving coupons
We only grant coupons if the following conditions are met. The grant of coupons is determined automatically, and we cannot provide details on why we could not grant them. Thank you for your understanding.
⚫ Using LUUP in accordance with the rules
⚫ Meeting the conditions for granting coupons
※ For example, you need to meet these conditions when the display shown below appears:
 - End the ride on an e-scooter at a parking port where e-scooters can be returned, if a parked e-scooter was found in a bike parking zone
 - End the ride on a bike at a parking port where bikes can be returned, if a parked bike was found in an e-scooter parking zone