LUUP integrates with other services.
Collaboration with External Services
To collaborate LUUP with other services, open the "Account Settings" from the settings and select the service you want to collaborate with from the list of external collaborations at the bottom.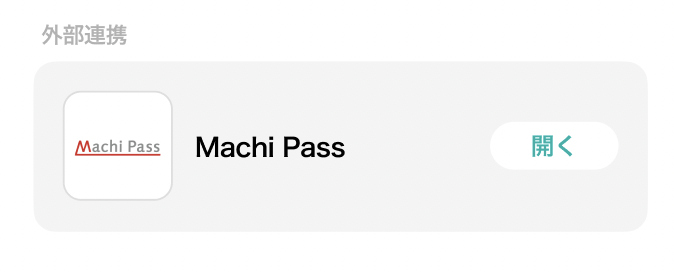 Collaboration with Machi Pass
By collaborating with Machi Pass, you can get great deals such as coupons that can be used with Machi Pass provided by the Mitsubishi Estate Group.
Ports provided by Mitsubishi Estate Group
・Marunouchi Building
・Shin-Marunouchi Building
・Marunouchi Oazo
・Otemon Tower ENEOS Building
・(In-store) micro FOOD&IDEA MARKET
・Tokyo Traffic Hall
・TOKYO TORCH Jyoban-bridge Tower
・MM Park Building
・MARK IS Minatomirai
・Dockyard Garden
・Landmark Tower
(As of March 22, 2022)